Our Approach
Welcome to Hawthorn Bank's Customer Experience Center!
We are dedicated to helping customers with a hands-on, personal approach to their banking needs. From enrolling for electronic statements to ordering checks to managing your debit card, our Customer Experience team is here to help you.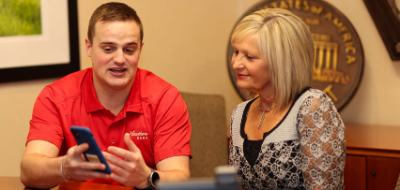 Make an Appointment 
Make a personal appointment with our Customer Experience Specialist! We offer appointments Tuesday through Thursday, 9:00 am to 3:00 pm, at our convenient locations. Click your location below to get started.
Share Your Experience 
Have you had a great experience with Jared Goodbrake, our Customer Experience Specialist? Tell us about it!
Here's how to leave a Google review: 
1. Click the blue button above to get started.
2. Scroll down and click 'Write a review.' If you are on a mobile device, you'll begin by tapping on the stars under 'Rate & Review.'
3. Click the stars to score and write your review.