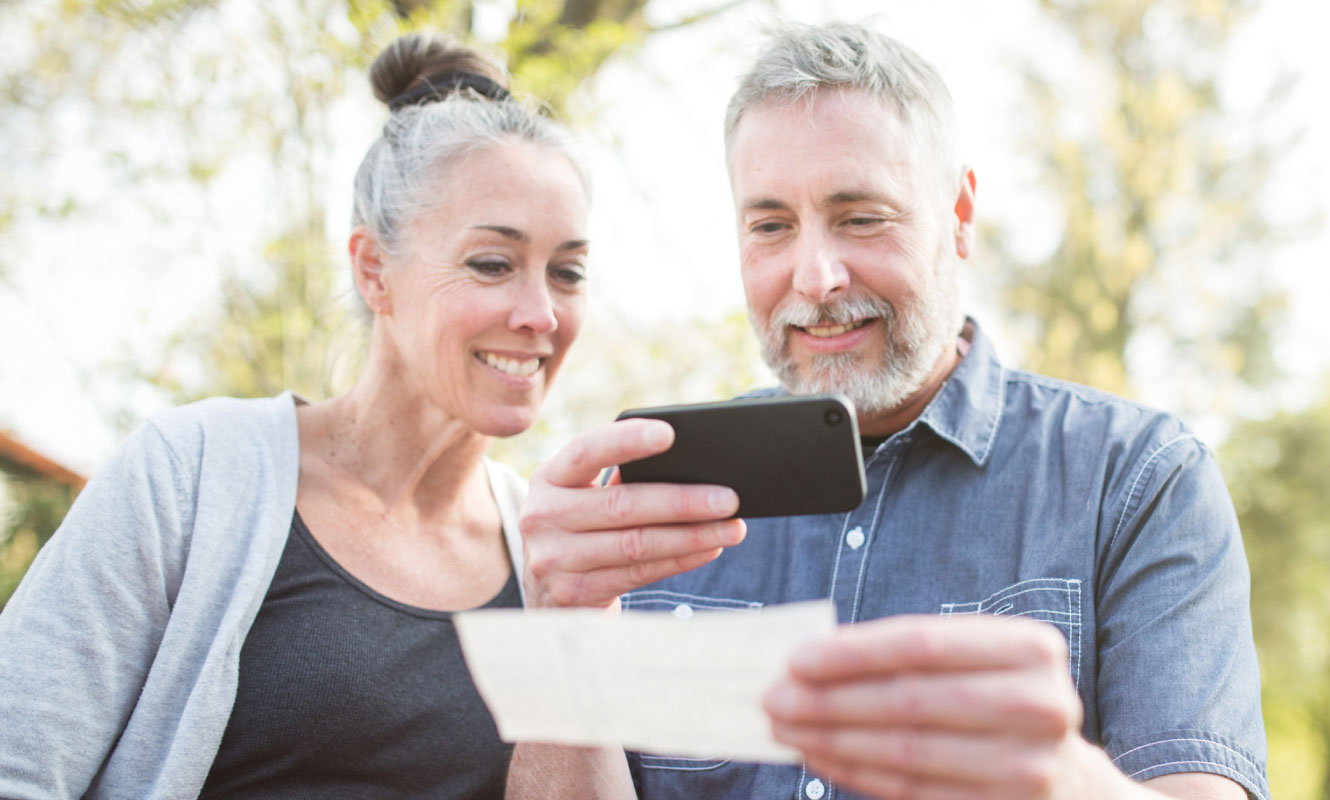 Manage your account easily from anywhere.
Our accounts come equipped with all the technology you want.
Digital Banking

With Digital Banking, you can access, manage and move your money, anytime, from any device.*
MONITOR YOUR ACCOUNTS
Check your balances
Get alerts, like when your balance is too low
See your recent checks and deposits
Set debit card or balance alerts
View electronic notices and e-statements
Control your debit card with our convenient on/off feature

MANAGE YOUR MONEY
Pay bills anytime, anywhere
Send money to someone in minutes using

Zelle

®
Transfer money between accounts
Make loan payments
review your spending
Set spending or savings goals using MyMoney Tracker
Track your progress
View projected cash flow
Create alerts and reminders to keep you on track
Mobile Apps

Take managing your accounts to the next level. Use our apps to quickly and easily navigate digital banking, plus:
Sign in super-fast with Fingerprint/Touch ID
Save trips to the bank by depositing checks using your phone's camera*
Download our app through the Apple App Store or Google Play Store to your iPhone, iPad or Android device. Then log in with your existing Online Banking ID and password.

(Opens in a new Window)

(Opens in a new Window)


E-Statements

When you get your notices and statements electronically, you'll receive email notifications that they are ready to view, so you can:
Save Money – Statements are available up to a week sooner.
Fight Clutter – E-Notices don't pile up on your desk like paper notices and statements.
Go Green – Eliminate waste and help the environment. 
To sign up, select your account. Select Settings. Select Documents > Advanced settings. Select Sign Up/Changes and follow the prompts to enroll your account(s).
Enroll to receive your tax documents electronically. It's easier and quicker than waiting for mailed tax documents. See the video tutorial above for a step-by-step guide.
---
*Hawthorn accounts eligible for mobile deposit, external transfer and/or Zelle enablement 
must meet the following criteria:
(1) the account opened for at least 60 calendar days; 
(2) Frequent debit and credit activity
demonstrating routine authorized usage of the account since account opening; and (3) Cannot 
be an Opportunity checking type. Hawthorn Bank reserves the right to terminate mobile
deposit, external transfer and Zelle access at any time without notice.
*Note: Mobile Deposit can only be accessed through our mobile apps.
Apple®, the Apple logo, and iPhone® are trademarks of Apple, Inc., registered in the U.S. and other countries. Android is a trademark of Google, Inc. Use of this trademark is subject to Google Permissions.
Subscribe
to our newsletter

.

Yes, I would be interested in receiving any news, updates, and special offers.

* Required
Thank you for your submission!