When you open a Round Up Savings account with $25 or more, any purchases you make with your Hawthorn Bank debit card are rounded up and the change is deposited into your Round Up Savings account. 
Here's how it works: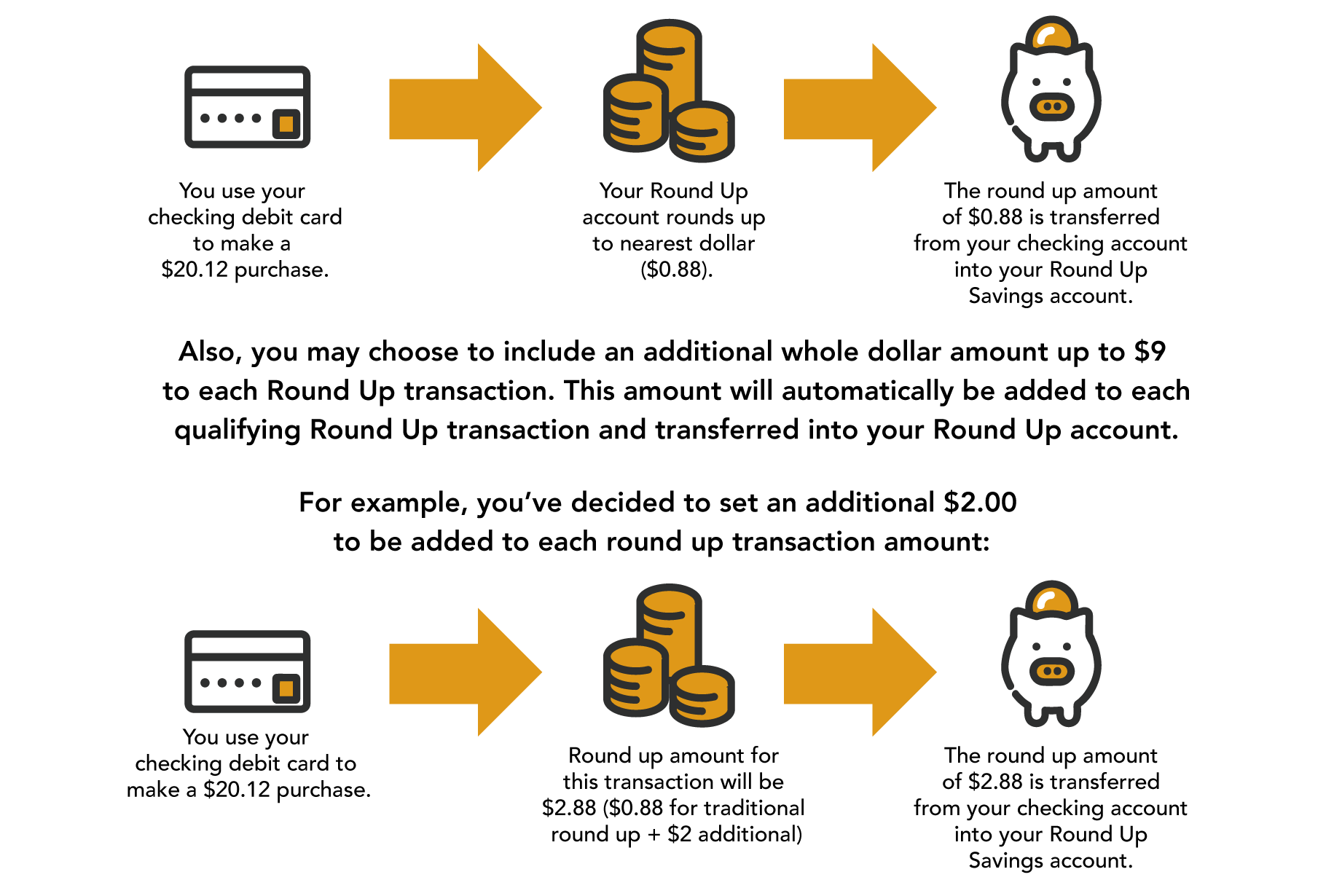 Why Round Up Savings?

A Round Up Savings account can help you save for your future goals, large or small. With every debit card purchase, you'll be contributing to your savings. Earn interest on the money you set aside, while keeping it within easy reach. 
Plus, you'll have access to these convenient benefits:
FREE Digital Banking – Includes free mobile deposit, online bill payments, Apple Pay, Google Pay, Samsung Pay, eStatements1

 

and 24-hour telephone banking
FREE ATM use at any Hawthorn ATM and hundreds of ULTRA ATMs

Open your account with just $25 or more
$3.00 monthly service charge is waived when you keep a daily balance of $25.00 or more
Balances are FDIC insured up to $250,000
Still have questions?
We're here to help. Check out our Frequently Asked Questions page by clicking on the link below, or speak with a banker at
1-877-442-9846.


1 In order to avoid a $3.00 paper statement fee, you must enroll in online banking, opt in for eStatements and maintain an active online banking enrollment. An active online banking enrollment is maintained by logging into your online or mobile banking account at least once every 120 days. If requirements are not met, you will automatically receive paper statements and your account will be charged $3.00 per month.
* Round Up transfers will be credited to your Round Up Savings account with the description "Bank Your Change."
* Any returned item which the bank resubmits for payment will be subject to an $8.00 per item handling charge.
* An Early Closeout Fee of $25.00 will be charged if you close your account within 30 days of opening.
* We charge a fee of $35 for each Stop Payment order you request.
* We charge a $35.00 Overdraft Item Fee each time we pay an item into overdraft. We charge a $35.00 Return Item Fee for each item we return unpaid. These fees apply to overdrafts created by check, in-person withdrawal, ATM withdrawal, or other electronic means. An item or payment may be presented multiple times and we do not monitor or control the number of times a transaction is presented. You agree that we may charge you a fee each time a payment is presented if the amount of money in your account is not sufficient to cover the payment, regardless of the number of times it is presented. Whether your overdrafts will be paid is discretionary, and we reserve the right not to pay. For example, we typically do not pay overdrafts if your account is not in good standing, you are not making regular deposits, or you have too many overdrafts. Overdrafts are expected to be repaid in a timely manner, and are payable upon demand.